When you start a SooSL dictionary, you first need videos of signs. First you make the videos, then you put them in SooSL.
At a minimum, you need videos for the signs themselves. We suggest you start by making 5-10 videos of individual signs. Then you can start adding signs into SooSL. After you work with SooSL on these signs, you'll know better what to do when you make more videos.
You may also want videos for example sentences and extra videos with explanations.
How to make good videos for a dictionary
You eventually need good quality videos of natural signing. Of course, you can start by just making a quick draft video. For draft videos, you don't need to follow these rules. Just get a video of the sign, so you know what sign you are talking about as you write the information about that sign. Then, plan to replace the video with a better version later.
Here are some rules for making good quality videos. They talk about five types of things:
The signer and clothing
Other deaf people should respect them and think they are good signers.

They should be able to sign clearly.

They should wear clothing that is a different color than their skin. If dark skin, wear light-colored clothing. If light skin, wear dark clothing.

No stripes, dots, words or pictures on the shirt; just one plain color.

Take off flashy or floppy jewelry. If possible, take off glasses, because they can hide the eyes.
The location
It is best to make all the videos for a dictionary in the same place. A video studio works best, but other locations will work.

Use a plain color background that is different from the signer's skin and clothing. Many video studios have a green wall, but other colors will work.

Use plenty of light. It is good to have three lights from different angles. Set them up so there are no shadows on the face or background.
The camera
A smartphone with a good-quality camera might work if you can mount it on a tripod so it doesn't shake while you are taking the video. Most smartphones have two cameras. The back camera is usually better quality than the selfie camera. You will also need a way to transfer the videos to your computer.

Use

landscape orientation

(width greater than the height), not portrait orientation (height greater than the width). For a regular video camera, don't turn it sideways; use it normally so the image is wider than tall. For a smartphone, use it horizontally, not vertically. (SooSL will accept both orientations, but your dictionary will look more professional if you use landscape orientation.)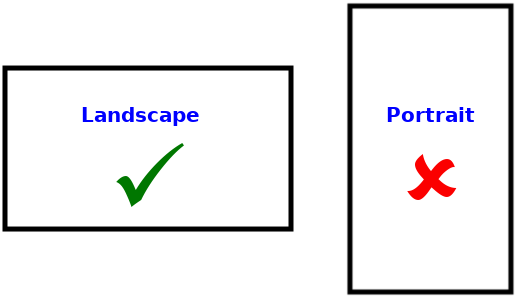 Most of the time, use a 4:3 (standard) aspect ratio. Be careful! Most cameras use a 16:9 (widescreen) aspect ratio by default, so you will probably have to change this in the camera settings. Sometimes you can use 16:9 if you want to add extra information to the video later, such as images or text. Or, if the signer moves around in example sentences, you might need 16:9 for them. However, most of the time you can use the older 4:3 (standard) ratio. This is plenty wide enough. (Of course, if you film in 16:9 ratio, you can crop it to 4:3 later, but that is extra work. It is easier to use 4:3 to start with.) If you use 4:3 for all signs, it will reduce the size of the dictionary project by 25%. (SooSL will accept any aspect ratio, but it looks more professional to be consistent within a dictionary.)
| | |
| --- | --- |
| 4:3 (Standard) | 16:9 (Widescreen) |
| | |
You don't need high resolution, because the videos will not be displayed full screen. 720p is high enough; you don't need 1080p. Some dictionaries use standard definition (SD) instead of high definition (HD). You will save space in the dictionary if you use lower resolution. Try different resolutions and see how they look in SooSL. That way you can decide what to use.

Be sure to use 720p (progressive) and not 720i (interlaced). If you make your videos interlaced, you will sometimes see stripes in them, especially when the hands are moving quickly.

25 or 30 frames per second is fast enough for ordinary signs. You may want to use 50 or 60 frames per second for fast fingerspelling.

Turn off anti-shake features on the camera. The rapid movements of signs can confuse the camera and make the image jump around.

Put the camera on a tripod to keep it steady. Don't hold it by hand.

Put the camera at the same height as the signer's face.

Focus and zoom the camera correctly. Do it this way:
Record

the video
Edit

and save the video
Edit the files and make clips. Put one sign, example sentence or extra video comment in each file. Clip them so there is about half a second before the sign or sentence starts, and half a second after the end.

Save the files in some standard video format. The best choice is MP4, but SooSL accepts many different formats.

Name the sign files with a gloss for the sign. For example, if a sign means 'banana', you might name the file "banana.mp4".

For an example sentence or extra video, name the file after the sign it belongs to. For example: "banana_example1.mp4" or "banana_extra1.mp4".

Ordinary letters work best in file names. Avoid spaces, most punctuation characters and special symbols. Even if your computer allows them, they can cause problems when the files are moved to other computers or

to SooSL Web

. You can read

specific rules here

for what letters to use in file names, and what ones to avoid.

Store all your clipped video files in one folder. In that folder, put only videos that are ready to use in SooSL. That way, you can find them easily from inside SooSL. If you want, make sub-folders for signs, example sentences, and extra videos, or sub-folder for different groups of words (foods, work, animals, etc.).
Next steps
When you have your videos ready, you can:
Created with the Personal Edition of HelpNDoc: Full-featured Documentation generator