You can export a dictionary to a ZooZL file. A ZooZL file contains all the files from a dictionary (text, videos, and pictures), all packed into a single file. This makes it easier to move the dictionary to another computer or store it for long-term archiving.
You might want to export a dictionary to a ZooZL file for any of three reasons:
To save a snapshot of the dictionary at a particular point in time (for

backup

or long-term archiving).

To copy the dictionary to another computer and

import it

into SooSL on that computer.

To

publish the dictionary

with SooSL Web.
When you export a dictionary, you can control what people can do with it. You can let people make changes or you can let them only read it.
How to export a dictionary to a ZooZL file
First:
Open the dictionary in SooSL Desktop.

If you want to export the dictionary to an external device (USB stick or external hard drive), connect it to your computer.
Then, click

Tools >

Export dictionary. You will see this dialog: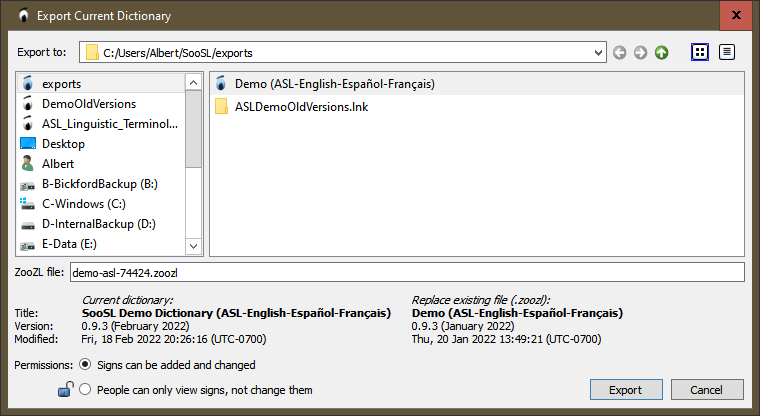 On the left-hand side of the dialog, there is a list of possible folders where you can save the exported ZooZL file. Choose the folder where you want to save it.
Click a folder to see what ZooZL files are already there. The dictionary names are on the right-hand side of the dialog. The dialog only shows ZooZL files that came from the same dictionary project. It shows the name the dictionary had when it was exported. If there is more than one ZooZL file there, you may see the same dictionary name more than once, but they will be different versions in different files (with different file names).
If you want to see more details about a specific file, click on it. You will see the ZooZL file name, dictionary name, version, and modified date underneath.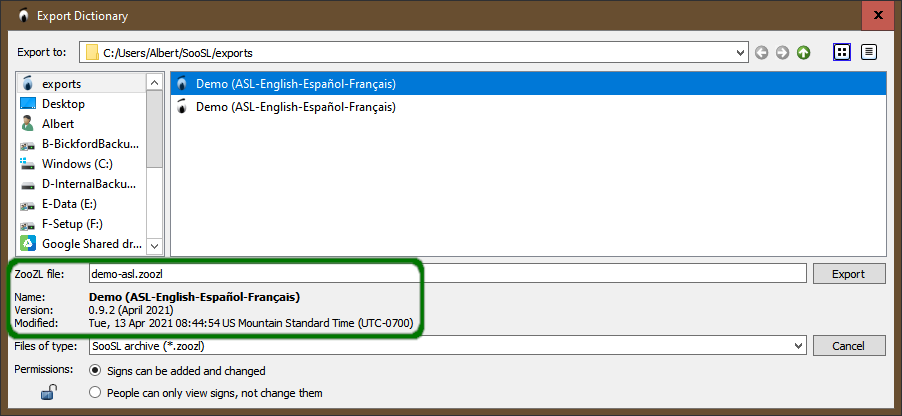 You can also see the file names and other information about each file in detail view.
Next, choose a file name for the new ZooZL file. You can do this in two ways:
You can click one of the ZooZL files that are listed on the right. Its filename will appear in "ZooZL file:". Do this only if you want to replace the current ZooZL file with a new one.

You can type a new file name into "ZooZL file:".

The file name for the ZooZL file can be different from the dictionary name. This is useful if you export the same dictionary several times; the dictionary name will stay the same, but each export can have a different file name. It helps if you keep the file name similar to the dictionary name.

It helps to include the date in the filename, so you know when you exported the dictionary. We suggest you do it as yyyy-mm-dd, e.g. 2021-08-10, so that files are kept in date order.
Next, set the permissions for the export.
If you want to import the dictionary on another computer and make changes, or allow other people to make changes,

choose

"Signs can be added and changed"

.

If you want to let other people view and study the dictionary, but not make changes,

choose

"People can only view signs, not change them"

. This makes the dictionary "read-only".
Caution: SooSL uses a simple means to lock a dictionary as

"read-only". A clever person can break the lock easily. If you want to share the dictionary and want to be sure that people won't change it, publish it on the SooSL website.
Finally, click

and wait. It can take several seconds or minutes to copy all the dictionary's files into the ZooZL file. When it is done, you will see this message: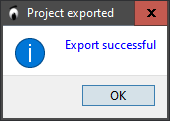 Click

.
After you export the dictionary, you can:
Save it as a

spare copy (backup)

of your dictionary. If you saved it on an external device, store it in a safe place. You may also want to make additional

spare copies

(backups) of the ZooZL file on separate devices or in cloud storage.

Send it to someone to use on a different computer

. They need to

import it

into SooSL first before they can use it. If both you and they want to make changes to it, see the special instructions on how to

work together on a dictionary project

.
Detail

view
When you are deciding where to save the ZooZL file in the Export Dictionary dialog (above), if you want to see more information about the ZooZL files that are already saved, click

Detail View in the top-right corner of the dialog.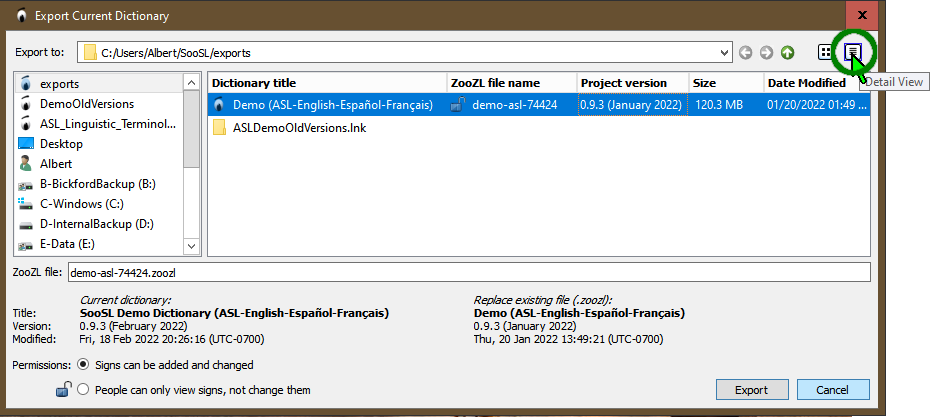 This view shows more information:
Dictionary name: the name of the dictionary.

Icons that show if it is

unlocked so you can change it, or if it is

locked so you can only read it

ZooZL file name: the name of the file that contains an exported dictionary. You can export the same dictionary many times, but each time you have to use a different ZooZL file name.

Project version: the version (if any) of the dictionary in the file

Size: how big the ZooZL file is

Date Modified: when the ZooZL file was exported
Saving ZooZL files in network (LAN) locations
The Export Dictionary dialog is special for SooSL, to make it easier to find where to export ZooZL files. However, it isn't as complete as a normal File Open dialog. It doesn't show all the files in your folders or give you access to your local area network (LAN). To export a dictionary to another computer on your local network, see this topic.
Created with the Personal Edition of HelpNDoc: Single source CHM, PDF, DOC and HTML Help creation