If you are completely done with a dictionary project, and you want to get rid of it, you can delete it.
However, be sure you want to delete the project. You cannot recover the project files after they are deleted. (If you are not sure, you may want to export the project first. That way, you can get it back later.)
You can delete the files in two ways:
Delete a dictionary project from inside

SooSL
Click

Tools >

Delete dictionaries. You will see this dialog: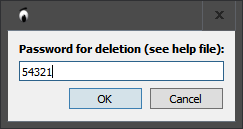 This dialog helps prevent people from accidentally deleting a project. Type "54321" as the password for deletion, then click

.
You will see this dialog: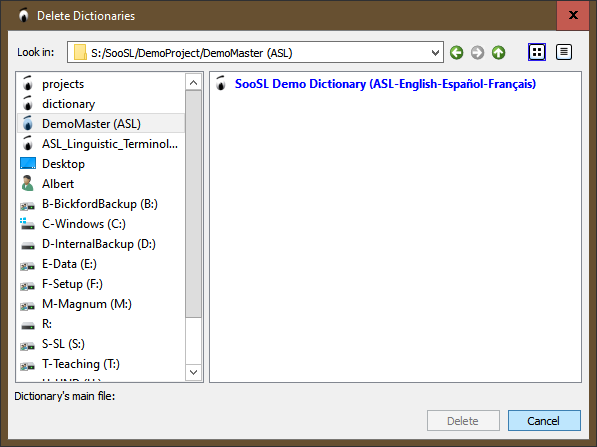 If a project is in blue text, that means it is currently open in SooSL. This is just a warning; you can still go ahead and delete it if you want.
You can use the list on the left to look for a project in a different location.
If you want more details about the projects that are listed, switch to detail view.
Click a dictionary you want to delete. It will turn red. You can choose more than one.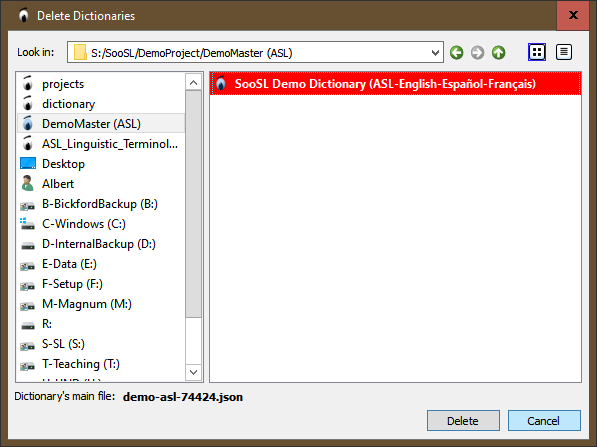 Click

. SooSL will ask you to confirm the deletion:

If successful, you will see this dialog:
Detail

view
If you want to see more information about the project files that you might delete, click

Detail View in the top-right corner of the dialog. You will see more columns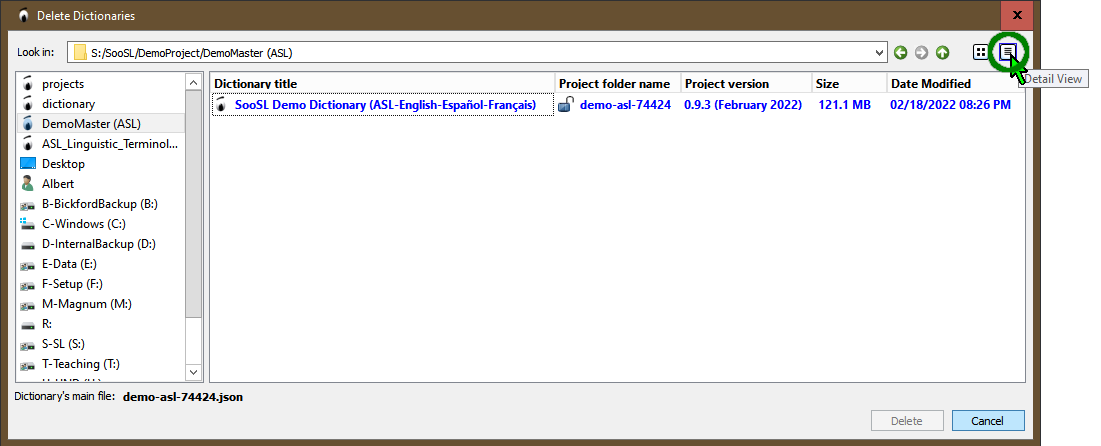 These columns show you more information:
Dictionary name: the name of the dictionary project

Whether you can edit

the project or if it is locked

so you can only read it

Project folder name: the name of the folder that contains the dictionary. This is usually different from the name of the dictionary, but often it is similar. The project folder is located in the directory indicated after "Look in". (For more information about how projects are

stored on the hard disk, see

this help topic

.)

Project version: the version number or description (if any)

Size: how much space the dictionary is using on your hard disk

Date Modified: when someone last changed the dictionary
Delete a dictionary project outside

of SooSL
If you know where the files for the dictionary project are stored, you can delete those files outside SooSL. You can use the tools you normally use to delete files.
First, learn about how dictionary projects are stored on your computer before you try this.
Also, close SooSL first before you delete any project files. At least, make sure the project you are deleting is not open in SooSL.
Created with the Personal Edition of HelpNDoc: Free CHM Help documentation generator