You can get more help on SooSL, ask questions, and send us feedback in several ways:
We understand English, Spanish, French, Romanian, ASL (American Sign Language), and International Sign.
Send

us email
Send us a message

from our website
Use the contact form on our website: https://soosl.net/contact.html
Send us a message

from inside SooSL
You can send us a short message from inside SooSL. (For a longer message, it is better to use email or the contact form on our website.)
In SooSL Web, from the startup page or from the menu,

click "Send feedback"

.

In SooSL Desktop,

click

Tools

in the top-right corner and then

click "Send feedback"

.
You will see a feedback form:
| | |
| --- | --- |
| SooSL Web | SooSL Desktop |
| | |
In Feedback,

type your message

.

If you want an answer, please

include your email address

.

If you don't want a response, this is optional. But think of this, we might have questions about your message. If you give us your email address, we can ask you questions. That will help us understand your message.

SooSL Desktop adds information about your computer and the version of SooSL you are using. This helps us understand your situation so we can answer you better. To see what information is going to be sent,

click

.
Click

to send the message to us.
If your message is sent successfully, then you will see a confirmation message.
Sometimes SooSL Desktop can't send your message. Maybe you don't have an internet connection. Maybe the SooSL website isn't working. Then you will see the following dialog: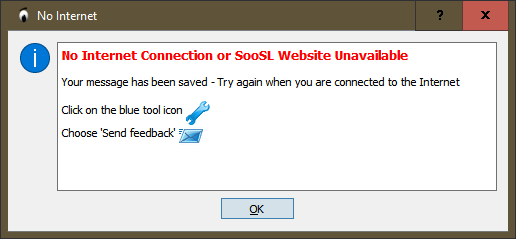 You might also see this dialog if your message is too long. This is a bug in SooSL Desktop. We plan to fix this bug in a future version of SooSL. So, if you have a larger message (more than one paragraph), or if you see this message over and over again, send us a regular email or use the contact form on our website.
If SooSL can't send the message or error report, it will save your message for you to send later. The next time it starts, SooSL will remind you to send it.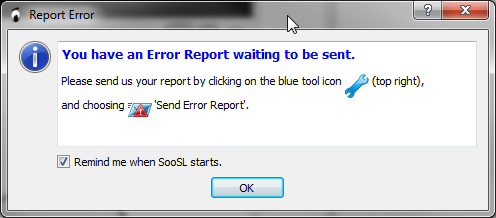 To send the saved message/report,

click

, then

click

Tools >

Send Error Report

.

If you don't want to send the message/report, uncheck the box "Remind me when SooSL starts" and

click

.
Created with the Personal Edition of HelpNDoc: Easily create EPub books